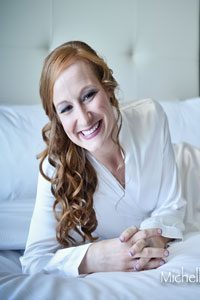 You want to look stunning on the wedding day – and while you are totally encouraged to set your own rules when it comes to this, there are still some things you might want to avoid doing, especially when you're down to one week before the actual wedding.
What are these things and why is it so important to avoid them? We have some tips for you – read on and find out more.
Any kind of new work out. The last thing you want on the dance floor are sore muscles – so it is very important to stick to the routine you're already familiar with and make sure you don't increase its intensity.

A new hair color or haircut. You might have a brilliant last-minute idea, but the truth is that it can go both ways: it can look amazing or it can be a total disaster. Are you really ready to risk this? Probably not – so it's far better to stay away from any such drastic changes.

Tanning – in any form it may be. Getting under those UV rays is definitely not an option (because you don't want burnt skin on your wedding day, right?). Moreover, tanning booths and self-tanning lotions are also a no-no – even a small accident can easily turn you way darker than you want, so we suggest avoiding the tan altogether. Plus, paler skin is really trendy these days – so why would you even want to risk everything for the sale of a tan?
Looking for the most amazing wedding hairstylist and wedding makeup artist in Florida? Contact Ultimate Bridal Beauty and allow us to be the ones who make you feel drop-down gorgeous on this hugely special day of your life. Hire us and you will love your wedding look!