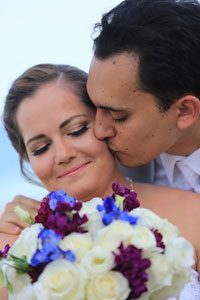 Your makeup, your hair, your jewelry, and, of course, your dress – they all have to be perfect on your wedding day, right? But have you decided on what perfume to wear at this huge event in your life? This decision is much more important than it may seem – especially since our brains are "programmed" to associate smells with memories, and you will want your wedding day perfume to always remember you of the magic and emotion you felt as you walked down the aisle.
How to choose the best perfume for your Big Day? We have some tips for you – so read on and find out more.
Match it with your wedding dress. For instance, if you plan on wearing an ultra-minimalist dress, you should also wear a citrus-based perfume. On the other hand, if you want to wear a glamorous wedding gown, the best perfume to match with it will almost always be based on wooden scents. Wearing a very fashion-forward, daring dress? Choose a perfume based on oriental scents!

Of course, the season you're getting married in matters a lot when choosing the perfume. In general, heavier perfumes tend to work best in cooler seasons, while fresher and citrus-y perfumes are more suitable for spring and summer.

Furthermore, it is very important to know how to test different perfumes. Don't spritz too many perfumes in one day – otherwise, they will end up mixing and you will not be able to decide which one you actually like. Furthermore, remember to test the perfume on your own skin as well (and to do this long before the wedding day, of course). You'd be surprised at how different the fragrance can be on the skin, as compared to the spritzed tester!
Looking for a talented make-up artist and hairstylist to help you look breathtaking on your Big Day? Contact Ultimate Bridal Beauty right now!