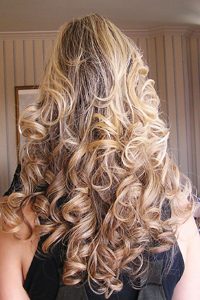 You want your hair to look splendid on your wedding day – and sometimes, this may mean that you will have to add hair extensions into the mix as well. Regardless of whether you are doing this for extra-length or simply because it adds more volume, it is still very important to make sure your wedding hair extensions are 100% suitable for you.
What are the most important things to know? Read on and find out more.
Clip-in extensions. If you want a fast and non-committed way of adding extensions for your wedding day, this is it. Most of the times, the application of these extensions lasts for less than 30 minutes (and it's very likely that you can do it on your own too). However, keep in mind that you should tease your hair before applying them, so that they can adhere better to your natural hair.

Tape-in extensions. With this type of extensions, you will most likely have to hire a professional hairstylist. They are fairly easy to apply and it takes about one hour to get them "up and going". However, they might not be suitable for ladies with very fine or oily hair, as these extensions would be at risk of simply slipping out.

Strand-by-strand bonded extensions. By far the priciest and most time-consuming option, strand-by-strand bonded extensions cost at least $800 and it takes at least four hours to apply them. The benefits? They look a lot more natural than any other type of extensions, and they provide you with complete freedom over where you can apply them.
Searching for a truly experienced bridal hairstylist and makeup artist to help you look at your very best on your wedding day? Contact Ultimate Bridal Beauty right now and hire us – you will never regret it!