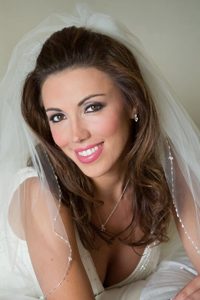 They say a woman's perfume and her lipstick are her most important beauty items – and this is more than true from more than one points of view. How do you choose a lipstick for your big day, though? We have some ideas for you – so read on and find out more.
There's just no way you can go wrong with a red lipstick – it's simply timeless. The elegance and style associated with this lipstick color will make you feel like a true diva, that's for sure! Keep in mind, though: you should choose a red shade that complements your complexion, and you should also make sure to use the right lip pencil too (it helps you prevent the lipstick from bleeding into the skin).

Want a soft, sweet, and still stylish color for your wedding lipstick? Coral is such a gorgeous option! Perfect for the spring and summer brides out there, this lipstick will bring a dash of freshness and cuteness into your bridal look.

Although it may seem a bit intimidating at first, tangerine is a splendid color for a bride's lips. Combined with a warm blush, it can illuminate your face and add a stunning pop of color that blends the perfection of a soft lipstick, with the daringness of a unique shade.

If you are looking for a mysterious color that makes a real fashion statement, purple is the way to go. Dark, yet still very feminine, purple lipsticks are a refreshing vibe for a bride who loves a bit of risk-taking.
If you want your hair and makeup to look absolutely flawless, don't forget to book your appointment with us, at Ultimate Bridal Beauty. Our hairstyling and makeup artist's services are here to make you feel drop-dead-gorgeous as you walk down the aisle!