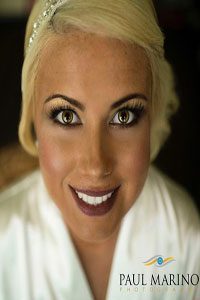 All brides want to look great, regardless of the season they choose for their wedding day – and as a winter bride, you definitely want the same. How do you choose the best and trendiest colors for your winter bridal makeup, though? Even more, how do you do this in a way that suits your skin tone? We have some tips for you – so read on and find out more.
Light skin tone. If you have a lighter skin tone, work with this instead of getting a fake tan. You want your natural beauty to shine on your wedding day, so be sure to choose a foundation that's as close as possible to your skin tone. Also, opt for charcoal grey or silver eye makeup and for a pale pink lipstick (for a natural look) or for a cherry red lipstick (for a more daring look).

Medium skin tone. Not very pale, not very tanned either? Your skin tone allows you to play around with your makeup quite a bit. For something that will make you look really stunning, go for dark purple/violets or black eyeshadow. Pair it either with a nude lipstick or with a deep wine-colored lipstick.

Dark skin tone. Show off your gorgeous skin tone with a copper or golden eyeshadow that will make your pretty eyes look even better! Also, don't forget to add a flattering lip color into the mix as well: berry red for a slightly more toned-down look, or deep purple for a wow
Looking for the best wedding hairstylist and makeup artist in Florida? Come visit Ultimate Bridal Beauty and learn more about our hairstyling and makeup artist's services. With us on your side, you will look nothing less than absolutely radiant!