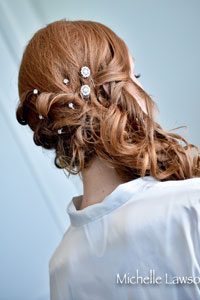 The simplest hairstyle will look a thousand times better when it is well-done, and when it is accessorized with the right pieces. So, if you want your hairstyle to be really stylish, you should definitely consider pearl pins – they are a big trend right now, and, truth be told, they look absolutely lovely!
How to incorporate pearl pins into your wedding hairstyle? We have some tips for you – so read on and find out more.
Elegant chignon. Pull your hair up in a chic, messy chignon if you want to look really pretty and feminine without overdoing it. Add a few single-pearled pins here and there too – it will make the style pop with grace and beauty!

Braided diagonal sweep. This is a hairstyle that's absolutely perfect for brides whose hair is somewhere in between (not short, not long either). With a gold and pearls accessory intertwined with the braid, this hairstyle will look absolutely flawless, especially for a boho chic bride who wants to be really stylish.

Half plaited, with pearls and flowers. Looking for a hairstyle that incorporates the beauty of nature, and would look totally amazing at a rustic chic wedding? A half plaited ponytail intertwined with wildflowers and pearl pins will be a fantastic choice for you!

Just a touch of pearly beauty. Do you have long hair and planning to let it down on the wedding day? Just pull your hair back a bit with a multi-pearl pin. It will be such a pretty, feminine, and unique touch!
Looking for a wedding hairstylist and makeup artist in Florida? You are in the perfect place, then! Contact Ultimate Bridal Beauty and we will make sure you look absolutely flawless on the biggest day of your life!