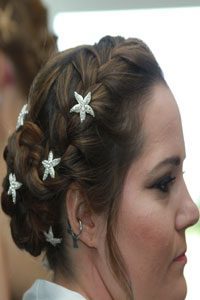 Winter weddings are truly spectacular, especially when planned with thorough attention to detail! Of course, as the Queen of your Wedding Day, you will want to look just as amazing as your wedding décor does – so, to help you with this, we have gathered some of the most important tips for you to keep in mind if you want to be a fabulous winter bride. Read on and find out more!
Take care of your skin. Cool weather tends to wreak havoc on skin – especially the dry types, but not exclusively. In fact, you should make sure to moisturize your skin regardless of what type it might be – even oily skin needs proper hydration, especially during the cool months of the year (the drier your skin gets, the more likely it is that it will eventually break out). Plus, a moisturized skin makes applying makeup so much easier and smoother!

Do the same for your hair. A lot of people associate hot summer hair with dehydrated hair – but it is usually the cold season that affects it the most. Once a week, be sure to apply a rich hair mask to help your hair regenerate itself and shine beautifully. Even the simplest hairstyle will look a lot better on healthy hair!

Yes, you can totally wear flowers in your hair. We know this is a big trend right now, and we know how lovely and feminine it looks. If you decide to do this, though, please make sure to choose seasonal flowers that tend to be more resilient in cold weather. The last thing you want is a dull or downright withered flower crown or flower hair accessory!
Looking for a brilliant makeup artist and hairstylist to help you look fabulous on your Big Day? Contact Ultimate Bridal Beauty and we will be there for you, to help you feel like true royalty on your wedding day!