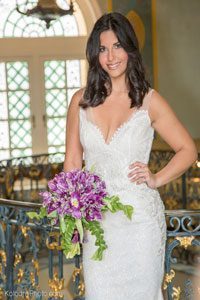 Like it or not, most of us aren't celebrities – and we'll never even talk to one. That doesn't mean you cannot feel like a celeb on one of the biggest days of your life!
How to steal the best celebrity hairstyles and incorporate them into your wedding look, though? We've gathered some of the trendiest and most unique ideas for your inspiration – so read on and find out more.
Short hair? We've said it before and we'll say it again: short hair doesn't mean you cannot look feminine, graceful, and totally elegant! Look at Scarlett Johansson – she is one of the most gorgeous women in show-biz, she's appreciated by ladies and gents alike, and she can rock a short elegant hairdo like no one else! Steal her sleek side crop if you want to look absolutely fabulous on your Big Day!

If your hair is medium-length, you know things can get surprisingly difficult when it comes to choosing a particular style for their wedding day. Our suggestion? Side-swept retro curls, just like Emma Watson's! They look lovely, they can be gorgeously incorporated in a variety of wedding styles and they will definitely work with your hair length!

Long hair offers more options – but all women know that "more options" frequently equals "more trouble settling on one". If you are searching for the ultimately timeless look for your long locks, take a look at fabulous Kim K – she's a stunner wherever she goes and her long, sleek hair will surely suit any type of bride!
Planning your Big Day in Florida? You need the best hairstylist and makeup professional for brides in the area? Contact Ultimate Bridal Beauty – our experience in the wedding industry and our utmost attention to detail will not disappoint you!