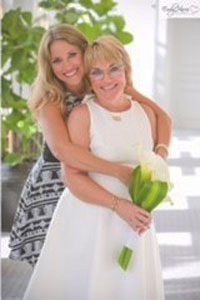 The beauty of a bride comes from within her. The happiness, the excitement, and the emotions she experiences as she walks down the aisle will inevitably make her the most beautiful lady in the room. Of course, as the bride, you will want to emphasize this with the most amazing makeup and hairstyle – and this is true regardless of whether you have long or short hair.
So, what are the best styles for short haired brides? We have some ideas for you – so read on and find out more.
Flowers and greenery. Want to look romantic and sweet? Flower and/or greenery crowns are such a wonderful option regardless of how long or short your hair may be! They will instantly upgrade your style to a beautiful and delicate look!

Waves and curls. Anyone can pull these off, including brides with shorter hair. The look created will be really feminine and romantic – and truth be told, it's a classic that will never go out of fashion, so it works for most wedding themes and styles.

Birdcage wedding veil. Classy and vintage at the same time, the birdcage veil seems to never go out of fashion. There's something irresistibly mysterious about this hair accessory, so it is very likely that you won't be able to resist it either. Lovely option for brides with short hair who don't want to skip on the wedding veil!

Side-swept bangs for bob haircuts and asymmetry for pixie haircuts. Want more volume and definition? Ask your hairstylist for side-swept bangs if you want to add a bit of "extra" to your medium or long bob haircut, or for an asymmetric pixie haircut if you want to keep things edgy and fun.
Looking for the very best wedding hairstylist and makeup artist in Florida? Ultimate Bridal Beauty is here to help you have the most fantastic wedding day ever! Contact us if you want your hair and makeup to be pure perfection!