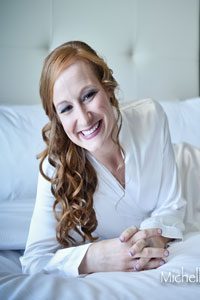 Your Florida wedding day is bound to be really busy. From the minute you open your eyes to the moment you finally go back to sleep in your hotel room, you will find that the Big Day is big from all points of view – including the roller coaster of emotions and micro-events you will experience throughout the day.
Under these circumstances, planning a really good timeline is very important – but how do you plan the actual morning of the Big Day, the "Getting Ready" part? We have some tips for you – so read on and find out more:
Keep in mind that your bridesmaids and your mother will also want to get ready the proper way. If you can afford it, you should definitely hire a separate hairstylist and makeup artist for them (and one who will take care of your look, exclusively).

In general, the makeup will take about 60-90 minutes for the bride and about 30-45 minutes for the wedding party members. Bridal makeup tends to be more complex because a lot of attention goes into details and using the right layers to ensure the bride will look flawless for as long as possible.

Expect the bridal hair styling to take about 60-90 minutes as well. The same goes for the bridesmaids and your mother too, so make sure you fit everyone into the schedule. If you are only hiring one makeup artist and one hairstylist for everyone, be sure you will not be left out. Also, remember to allow extra-time into your schedule, so that you avoid being late at your wedding ceremony.
Looking for the very best bridal hairstylist and bridal makeup artist in Florida? Contact Ultimate Bridal Beauty – and do it as soon as possible, you will never regret your choice!