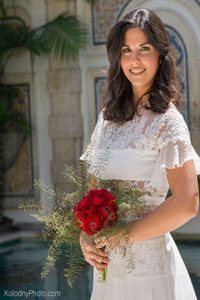 Your bridal look is (obviously!) very important to you, so you will definitely want to make sure you do everything needed to create a truly stunning appearance for the Big Day.
What are some of the most important things to do before, during and after the wedding? We have some tips for you – so read on and find out more.
Get your manicure done. Our advice is to start doing this as soon as you put that engagement ring on your finger. There will be a lot of pictures where you want that beautiful piece of jewelry to shine bright – and a manicure will just make it look even better. Remember to have your manicure done as often as possible – you want your hands to look perfect at all times, before and on the Big Day as well!
When doing your bridal makeup, focus on the lips. Give them a special scrub (there are some out there that are literally delicious smelling and they do an amazing job too). Pick a lipstick shade that goes with your skin tone and makes it look brighter, more beautiful. Coordinate your lipstick with a soft, suave, feminine makeup look (based on nudes or soft peach shades, for example). Your smile will look even more gorgeous on those wedding pictures!

Once the Big Day is over, don't forget to remove your makeup. Micellar water is excellent for this, but if you have a specific product you use for makeup removal, don't hesitate to pack it with you on your wedding day. Give your skin a deep cleanse, toning, and moisturizing as well – you've worked hard to achieve a skin that's really beautiful, so why not maintain it from now on as well?
Looking for a very talented makeup artist and hairstylist in Florida? Ultimate Bridal Beauty is what you need! We have years and years of experience in working with brides, so we definitely know how to help you look fabulous on this special day of your life!