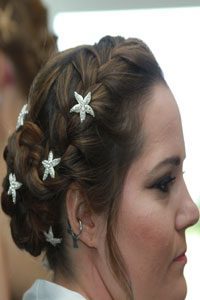 There are a million reasons to wear your hair up on your wedding day. Some may do it because it is the most formal bridal hairstyle. Others may do it because that's what they perceive as elegant, while others will do it because it makes them feel pretty. And then there are others who know that under the summer skies of Florida, the last thing you need is feeling thermic discomfort during your wedding day – and pulling the hair up is simply the most comfortable, acceptable hair look.
How do you create the perfect bridal updo as a bride in Florida? We have some tips for you – so read on and find out more.
Do a knot bun. Tired of side buns, chignon buns, ballerina buns, and even tired of the stylish messy bun? The knot bun is here to replace all of these and add a dash of uniqueness to any bride's look. Beautifully created in a way that makes the hair look like actual knots, this bun can also be accessorized with small pieces of jewelry or small flowers.

A halo braid. If your hair is medium-to-long and if you want to create a rustic-chic updo look for your Florida wedding, ask your hairstylist to create a halo braid. Paired with a boho dress, this style will look actually stunning.

Teased up updo. Your hair deserves to be really glamorous – so if you want to add a good dose of volume for your bridal hair look, tease it up. A low bun will look amazing with perfectly polished volumized hair, just as much as it will look with a messier style.
Looking for the very best hairstylist and makeup artist in Florida? Be sure to contact Ultimate Bridal Beauty and allow us to help you feel drop-dead-gorgeous on the most beautiful day of your entire life!