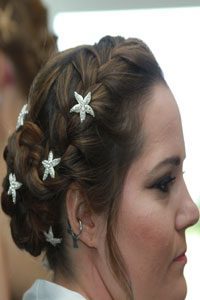 Beautiful hair has always been a must for ladies – and even more so on special occasions. Since your wedding is probably the fanciest, most important event of your life, you will definitely want to look at your very best while walking down the aisle – and your hair will make no exception from the rule.
What are some of the best bridal hair hacks to keep in mind? We have some ideas for you – so read on and find out more.
Small accessories can make a huge difference. A low bun with a pretty hair piece can be instantly turned into a real fashion statement. Likewise, curling your hair in the style of the Golden Age movies and pulling it to one side with the help of a statement hair piece can also look stunning. Don't be afraid to use hair accessories. As long as you don't go overboard with them, and as long as they are suitable for your particular style and wedding gown, they can only make you feel breathtaking.

Tired of flower crowns? Truth be told, they've been everywhere – but if you still love the floral touches and the rustic appeal of this hairstyle, you can weave flowers in a braided updo. It will look so natural and pretty!

Your high bun can be instantly upgraded to a chic retro style with the help of one simple scarf. Pull your oversided bun at the top of your head and wrap it with a small, retro-inspired scarf. It will definitely make you feel as if you just walked out of a Mad Men scene!
Looking for the best and most talented wedding makeup artist and hairstylist in Florida? Contact Ultimate Bridal Beauty and you will never regret having chosen us and our services!