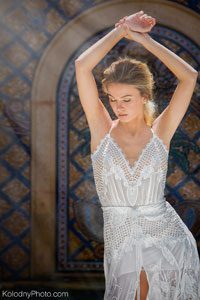 Summer weddings are always fabulous – and we can definitely understand why you couldn't resist the temptation of setting a summer date for the Big Day. How do you make sure your wedding makeup stays on all day long, even with all the heat outside, though? We have gathered some tips for you – so read on and find out more.
First of all, make sure your base is really good. Good face and eyes primers are absolutely miraculous when it comes to setting a good base (and when you add a quality SPF foundation, you're in for an excellent base). Also, spraying a bit of fixing spray at the end of the makeup session can also improve your chances of not ending up with a smudgy makeup halfway through the wedding.

Furthermore, try to avoid glittery and thick textures for the eye makeup. That glitter may look glamorous and beautiful, but the truth is that it's probably completely unsuitable for the high temperatures outside. Go for soft, matter and velvet-y textures instead – you'll be much better off!

Be sure to include loose powder in your bridal survival kit. It will help you refresh your makeup and remove oil and shine (two of the guests you definitely don't want at your wedding!

Invest in quality lipstick too. There are a lot of products out there that are perfectly transfer-proof. You don't have to go over the top with the color either – just a pop of color to go with your blush and eye makeup. You will look splendid
Searching for a professional makeup artist or wedding hairstylist to help you feel stunning on your wedding day? Contact Ultimate Bridal Beauty right now and we will make sure to create the perfect look for you as the perfect bride!