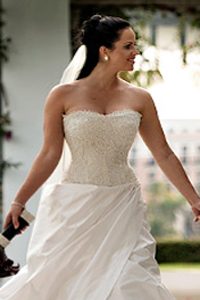 A bride's wedding dress is one of the most important wedding elements – and if you are planning your own Big Day, you know better than anyone just how much you want to find that one dress that looks great on you and, more importantly, makes you feel absolutely amazing.
How to take your figure into consideration when choosing your wedding dress? We have some tips for you – so read on and find out more.
• Pear-shaped figure. If your body is larger on the lower side, you will want to wear a dress that creates balance and harmony. Some brides make the mistake of simply trying to hide the lower body – but that's not the way to go with a pear-shaped figure. Instead, focus on drawing the attention towards the shoulders and the waist, so that you create the optical illusion of a larger upper body as well.
• Hourglass figure. Probably one of the most "envied" figures in the entire world, the hourglass lady has a harmonious body with a delineated waist and an upper and lower body almost equal in size. To look like a true royalty as you walk down the aisle, you should try to find a dress that offers good support in the upper area, while underlining the small, beautiful waist too.
• Boyish figure. If you are very slim and your body follows a straight-lined path, you will want to wear a dress that adds dimension and curves to your figure in a beautiful and romantic way. Gowns with gathered fabrics, boat necks and/or scooped backs are ideal for you!
Searching for a pro to help you with your hair and makeup for the Big Day? Contact Ultimate Bridal Beauty and hire us for our amazing wedding makeup and hairstyling services!