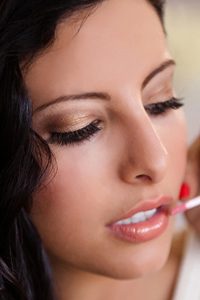 Beauty will always be in the eyes of the beholder – and, as you walk down the aisle and head towards the love of your life, you will see just how crystal clear and true this is. However, this is your big day – and, as a bride, you surely want every single element of the wedding to be absolutely flawless. Of course, your appearance makes no exception from this rule – but how do you actually create the perfect makeup? We've gathered some tips for you – so read on and find your inspiration.
• Dramatic and natural at the same time. You don't have to go too much over the top to achieve a dramatic look (the kind that looks really great in the pictures, obviously). A natural makeup, a well-chosen lipstick shade and a pair of false eyelashes can really work like a miracle for you.
• Rosy cheeks, rosy eyelids. Pink has come back in big style, so if this is your color and if you want to create an ultra-feminine look you can definitely use it for your bridal makeup. For more balance, we suggest you either use it on your eyelids on your cheeks. Pink eye makeup will look stylish and pretty, while rosy cheeks will look fresh, natural, and romantic at the same time.
• Go bold on the lips. Who doesn't love a bold lipstick? For a classy, slightly vintage look, create a natural eye makeup and use an orange-tinted red lipstick. For something more dramatic, use a berry-shaded or maroon lipstick. Both options will look stunning on a "blushing bride"!
Searching for a really professional makeup artist to help you create a truly amazing makeup? Ultimate Bridal Beauty provides brides with exquisite makeup and hairstyling services – so be sure to contact us and book us for your big day!