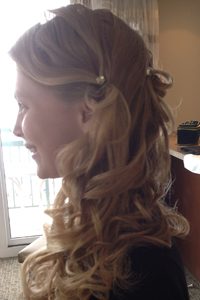 Your happily ever after is right around the corner – and, as a bride, you want to look simply flawless on the Big Day. How to make sure you create the best hairstyle for such a huge moment in your life? We have gathered some tips for you – so read on and find out more.
• Do your homework. The first step to choosing the best hairstyle for your wedding day is to run a little research. See what types of hairstyles you love and who can pull them off best in your area. Search for the very best wedding hairstylist where you live, or where you want to have your wedding – read their reviews, talk to them, and don't forget to schedule a trial appointment as well.
• Make sure you have enough time. Regardless of who will do your hair – you, a friend, or an actual professional hairstylist – it is very important to make sure you have plenty of time to create it from scratch. Calculate how much time is needed to create your hairstyle and add about 30 minutes on top of this (just in case you are interrupted, things don't go as planned, or other similar situations).
• Last, but definitely not least, make sure your hairstyle goes well with everything else about your wedding look – your makeup, your dress neckline, your accessories, and so on. A professional stylist can help you more with this, as they have the experience and know how needed to pull superb bridal looks.
Still searching for your hairstylist? Come visit Ultimate Bridal Beauty and allow us to stand by your side through our amazing hairstyling and makeup artist's services. With our skill, talent, and dedication to perfection, your wedding look will be nothing less than GORGEOUS!