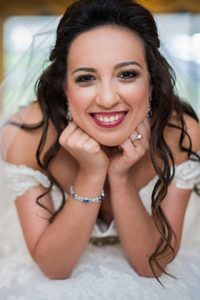 Fall brides know it better: there's nothing more romantic than the gorgeous colors of this season and nothing more vibrant than its generosity either. And if you are a fall bride, you surely want to make sure everything about your Big Day is fully coordinated with the splendid season outside.
What are some of the very best fall wedding beauty trends to consider this year? We have gathered them right below – so read on and inspire yourself.
• Glossy or smoky eye makeup. If you want a very luxurious, glamorous look (think of Beyoncé), opt for a glossy eye makeup inspired by the warm colors of the season. If you want something more dramatic, talk to your bridal makeup artist about a smoky eye makeup. It doesn't have to be too over-the-top and black (especially since this might not look great in the pictures) – but even a soft, brown-based smoky eye can add a lot of drama and gorgeousness to your look.
• Dark lips. They've been around for some time and they are here to stay! Plum, maroon, and, in general, dark-colored lipsticks are all the rage – and they look so splendidly amazing on brides too! If you do choose to wear a dark lip, remember to keep it low-key with the eye makeup, so that you create a perfectly well-balanced look.
• Dramatic eyelashes. Fake eyelashes are a great option for a bride – even if just for the fact that they will not smudge under all those emotional tears you will shed on the Big Day! Pick a pair with a dramatic flair to make your wedding look really stand out – it will make you feel drop-dead-gorgeous indeed!
Still searching for a wedding hairstylist or makeup artist? Contact Ultimate Bridal Beauty and allow us to be there for you on your wedding day! We'll surely make you feel like the a true VIP on the red carpet!