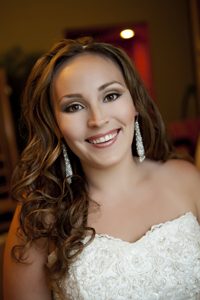 Women have always been extra-careful with their hairstyle – so it is only natural that you want your hair to look perfect on the biggest day of your life. Even more, you surely want your special ladies' hairstyles to be absolutely flawless too – but what are some of the simplest ideas to try out (and look stunning doing so)? We have some tips for you – so read on and find out more.
• Loose curls. They are romantic, charming and elegant at the same time. It can even be said loose curls are absolutely timeless as well. You have all the reasons in the world to love this style, especially considering its versatility and how amazing it can look on every lady out there.
• Half-up. This is the kind of hairstyle you probably learned to master ever since you were a kid. Also very versatile, a half-up half-down hairdo can be perfect both for an ultra-elegant wedding and for a more boho-chic, alternative one. Furthermore, it is truly ideal for your bridesmaids too, as they will be able to look fantastic in their own versions of this classic 'do.
• Pony tail. The simplest and probably the most feminine hairstyle of all times, the pony tail can look really amazing when it's done the right way. With a bit of volume and a little "messiness" to it, the classic pony tail can turn your wedding photos in a series worthy of a glossy magazine. Yes, you surely love this style!
Still looking for a hairstylist to help you truly pull this off? Here at Ultimate Bridal Beauty, we have the experience, the passion and the high amount of attention to detail to help you with this! Contact us and hire as your hairstylists and/or makeup artists – we guarantee you won't regret it!