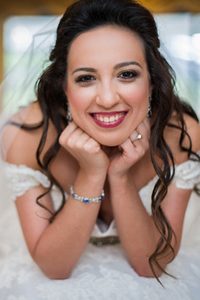 Every single detail matters for a bride! From the top of her head, to the tip of her toes, every single thing can make a huge difference in the way a bride-to-be feels on her Big Day. For example, have you considered the manicure you should adopt for a fall wedding? If not, no worries, because we have gathered some of the best and most beautiful wedding nails ideas you could try:
• Rose gold. Planning an elegant, luxurious wedding? Rose gold has been everywhere lately, so it would surely go amazingly well on your nails too.
• Peacock blue. There's something dashingly proud about this color that works fantastically with the poetry, romanticism and mystery of fall. The skies may not be blue anymore, but this shade of blue complements the warm colors on the background, creating a darker, but more sophisticated "vibe" than other typical "fall colors".
• Rich purple. This is a quintessential fall color – and it looks fantastic on both light and darker skin tones as well. Lovely, elegant and rich, this color will make you feel truly strong as you walk down the aisle.
• Natural pink. Sometimes, less is indeed more. If you want to keep your manicure low-key, but still want to "accessorize" yourself in a pretty way, a natural pink color is perfect for your wedding appointment.
• Gold glitter. Searching for a way to add an extra-dash of luxuriousness to your wedding day? Paint your nails in gold glitter – it will make you feel so fabulously stunning!
Still searching for the perfect hairstylist and makeup artist? Come visit Ultimate Bridal and let's talk about your dream wedding look! With our talent, skills and amazing dedication, you are bound to create a superb bridal appearance that will take everyone's breath away!