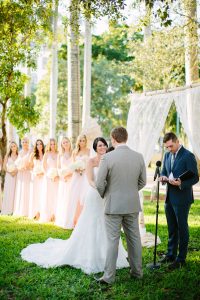 Your wedding ceremony should be all about you: your love story, your personality, your dreams for the future. It should be infused with who you are as a couple and with the things you truly love. It should be just as unique as you are.
Of course, your ceremony altar makes no exception from the rule. But how do you personalize it in a really original and stylish way? We have gathered some tips for you – so read on and "steal" some inspiration:
• Vintage or antique furniture. Planning a vintage wedding? Then use an old piece of furniture to add a dash of uniqueness to your wedding backdrop. The furniture, a few flowers and two heartfelt, sincere wedding vows – that's all you need for a ceremony that will wow everyone present!
• Strips of fabric. The best things about this idea is that it is extremely versatile. For a feminine, delicate and dreamy appeal, you can use veil, organza or other similar fabrics. For something more down-to-earth, but still elegant, you can use bold-colored cotton. And for a wedding that's luxurious and fancy, you can use silk, satin or other fabrics of this type.
• Wooden signs. Sometimes, two or three words can speak more than entire novels will ever be able to. Choose a quirky, cute and funny wedding sign, hang it above your ceremony altar and the big moment will be gorgeously infused with your story!
• Something you both love. It may be football or it may be Game of Thrones – but if it's something you really both love doing as a couple, it should have a place of honor in your ceremony. Small details can make a huge difference (e.g.: the colors of your favorite team or a quote from your favorite show).
Searching for someone to help you feel drop-dead-gorgeous as you walk down the aisle and head towards your loved one? Here, at Ultimate Bridal Beauty, we provide high-quality makeup and hairstyle services – so contact us and book us for the Big Day. You will not regret it in any way!
Photo source: flickr.com/ timothyhorrigan