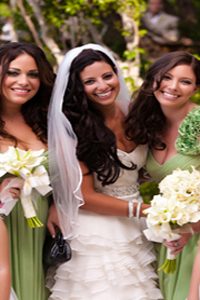 For you, your bridesmaids are among the most important people in the world – so you surely want them to feel excellent on the Big Day. Sure, choosing beautiful dresses for them is one of the top priorities –but don't forget to think of their hairstyles too. How to choose the best hairstyle for your pretty bridesmaids? We have gathered some ideas – so read on to inspire yourself.
• Updos. Elegant and feminine, updos are always an amazing choice for special events. Furthermore, they can be as formal or as informal you want them to be. For instance, a messy updo or a braided updo will be perfect for a rustic-chic or boho-chic wedding. At the same time, a very smooth ballerina updo or a chignon could work wonderfully for a more formal wedding.
• Letting the hair down. Updos are not the only type of hairstyle that can be elegant and beautiful. There are a lot of hairstyles that incorporate letting the hair down in a really gorgeous way! For a casual affair, encourage your bridesmaids to curl their hair in beachy waves. For something more traditional, a glamorous blowout will look fantastic!
• Leaving it up to them. If you want each bridesmaid to wear the hairstyle that suits her the most, leave it up to them. After all, they know best what suits them and their styles and they will definitely match the hairstyle to the dresses and to the overall vibe of the entire wedding!
Ultimate Bridal Beauty can provide you (and your bridesmaids!) with makeup and hairstyle services of the highest standards! With lots of experience in pulling off flawless looks for our clients and with a keen passion for beauty and style, we truly love what we do – and our brides see this every step of the way! Contact us, find out more about our services and book us for the Big Day!