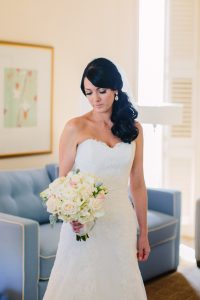 Your wedding gown is one of the most important dresses you will ever wear – so you surely want it to suit you not only in terms of size and cut, but also in terms of who you are as a bride too. How to do that? What do some of the most popular dress styles say about the brides that choose them? We have gathered some tips for you – so read on and find out more.
• Ball-gown. Spectacular and romantic, this type of gown is for the bride who has been planning her wedding ever since she saw her first Disney movie. This is for the hopelessly romantic ones. For the dreamers. For the women who like old-school femininity and grace.
• Sheath. Simple and yet incredibly elegant, sheath dresses are perfect for weddings that strike the perfect balance between "fancy affair" and "casual gathering". If you like classy simplicity and want to keep it modern, stylish and pretty, a sheath dress is perfect for you.
• A-line. Also a timeless classic, A-line dresses tend to be perfect for a wide range of body types – which is one of the main reasons these gowns are still a majorly popular choice. The A-line dress is ideal for the woman who always looks put-together, but never over-the-top.
• Pantsuit. If you are the type of bride who doesn't want to wear a dress on her wedding day, you are most likely a woman who believes in the strength of womanhood. You are modern, independent and you are not afraid to think out of the box, no matter the circumstances.
Searching for specialists to help you complete your bridal look with flawless hair and makeup? Contact Ultimate Bridal Beauty and we will be there for you on your Big Day, to make sure you feel drop-dead gorgeous as you walk down the aisle!