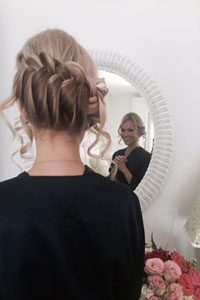 Just because you want to be a classy bride, it doesn't mean you are stuck with hairstyles that have been done over and over again. On the contrary, modern fashion trends are actually quite encouraging with brides who want to add a contemporary, personal twist to older hairstyles!
Below, we have added some of the most popular modern interpretations of timeless hairdos – so read on if you are looking for some inspiration.
Textured chignon. This all-time classic will always be a bridal favorite, precisely because it is so feminine, graceful, and elegant. If you want to add a more contemporary twist to it, curl up your hair and have your stylist pull it up this way. It will add an angelic twist to an already sweet hairstyle, and it will work marvelously well for a bride who wants to be just a bit over the top with her look.

Retro twists. You can bring a retro look into 2018 without looking like you've just walked out of a pin-up poster as well! For instance, you could steal inspiration from the 1950s twists, but use them to decorate a low, elegant bun, instead of bringing them towards the front of the face. It will look so pretty and unique!

Lovely ponytail. This is the ultimate feminine hairdo – and although it might seem too "everyday" for many of you, the truth is that ponytails can be spun and curled, they can be brought very high, and, in the end, they can be "upgraded" even with a simple twist of the hair. Ask your hairstylist for a bridal-worthy ponytail – you will love it!
Looking for the perfect hairstylist or makeup artist in Florida? Contact Ultimate Bridal Beauty right now – you will never regret hiring us for the Big Day!