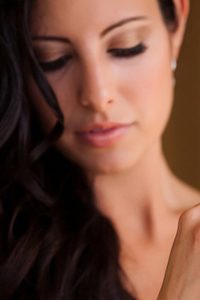 Great, healthy and glowing skin is the absolute foundation of beauty – and it's something you definitely want on your wedding day, right? How do you do it, though? How to achieve that flawless supermodel-worthy skin before the Big Day?
We have gathered some tips for you – read on, find out more, and shine with beauty at your wedding.
• Start your skin care routine with a cleanser suitable for your skin type. In general, it is highly advisable that you avoid anything too harsh on the skin (usual soap is included here). Even if your skin is oily, harsh products will only harm it – so settle on a high-quality cleanser that works well with your skin.
• A scrub will also help you achieve radiance – but, same as with the cleanser, it is really important that you choose something that doesn't attack your skin. Generally speaking, cosmeticians will always recommend scrubs with synthetic beads that are equal in size and shape, as this type of product is softer on the skin and doesn't irritate it.
• Once you have cleansed your skin, it is also important to tone it. Again, you should use a product that's suitable for your skin type – and avoid anything with a high percentage of alcohol in it.
• Moisturizing is also a crucial step in your skin care routine and you shouldn't skip it, regardless of what type of skin you may have. Sometimes, people with oily or mixed skin tend to avoid using moisturizers, but this is a huge mistake – if you find yourself in this situation, find a skin cream that's designed specifically for your skin type and you will see amazing results.
Looking for a hairstylist or makeup artist with experience in making brides feel drop-down-gorgeous? Contact Ultimate Bridal Beauty right now – we will not disappoint you!