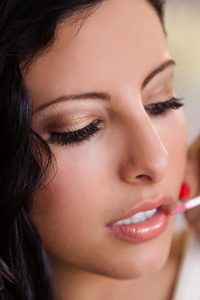 Like most brides, you want to radiate beauty and confidence on your wedding day. Of course, makeup can do a lot for you – but the truth is that you might want to create a beauty plan to help you look naturally stunning on the Big Day. What are some of the steps to consider? We have gathered them below – read on and find out more.
• Get your hair deeply conditioned once a month to boost its natural glow and health. Also, it would be advisable that you would allow yourself one day/week when you can't do anything to your hair. From shampooing to straightening, a lot of the hair-related actions we do cause harm.
• For your face, remember to wash it twice/day with a product suitable for your particular skin type. Also, it would be a good idea to go in-depth with your cleaning at least once/week. You can do this with a deep-cleaning mask (and there are plenty of them that are affordable and truly good at the same time). Furthermore, if your skin is not very sensitive, you might also want to try a deep cleaning at home.
• For a healthy skin glow, use a body lotion every single day, on your entire body. Moreover, it is also recommended that you exfoliate your skin once a month (and, again, there are plenty of products you can buy to exfoliate your body skin). Last, but definitely not least, try to hit the spa at least once during your wedding planning process – there will be a lot of stress involved, and you will more than love relaxing yourself, even if just for a couple of days.
Still looking for a fantastically talented makeup artist and hairstylist? Contact Ultimate Bridal Beauty and you will love your look on the Big Day!