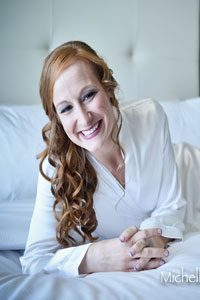 Mirror, mirror, on the wall – who's got the most gorgeous hands of them all?
The bride, of course!
How did she get her hands to look so fantastic?
We have gathered some of the best tips to help you achieve the same beautiful effect – so read on if you want to find out more and have the most picture-perfect hands in the world.
Don't cut the cuticles. Not only can this lead to a really nasty infection, but it will also make your nails look shorter and less beautifully-polished. There are plenty of cuticle-removing solutions, so you are guaranteed to find one that works for you.

Pay attention to your hand cream. In general, all hand creams are great – and it is essential that you find one that works with your skin type and with your preferences. Remember though, not all hand creams are created equal, so it's best to search for one that offers extra-benefits (aside from hydration).

You exfoliate your face and your body – so why would your hands make any exception from this golden rule of skin care? Exfoliating your hands twice a week will make them look and feel more delicate and feminine.

Last, but definitely not least, invest in professional manicure services. It may cost more than the DIY alternative – but trust us, that breathtaking engagement ring and the wedding ring that's on its way both deserve a perfectly polished manicure!
Have you hired your bridal hairstylist? How about your wedding makeup artist? Here at Ultimate Bridal Beauty, we can help you with both services. We have lots of experiences in working with brides like you and we can guarantee 100% satisfaction for our work. Allow us to help you look breathtaking on your wedding day!