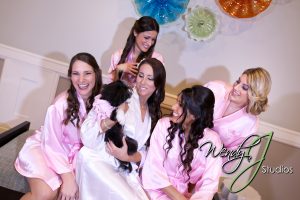 Your wedding is one of the happiest days of your life – so it is only natural that you want all of your friends and relatives to be there with you and celebrate the big moment. If your pups are a very important part of your life, including them in your wedding is definitely a great idea – but how do you do that? How to include dogs in your wedding in a way that's safe and unique? We have some ideas for you – so read on and find out more.
• Set the stage. Before bringing your dog to the wedding, do make sure your venue allows for pets inside. Furthermore, make sure you know how your pup reacts when he is surrounded by a lot of people as well – this will also help you determine the type of role he should play at the wedding. Last, but definitely not least, consider hiring a pet sitter for the remainder of the wedding day, so that your pup is taken care of.
• For the photos. Including your dog in pictures is a wonderful idea if you know your pup gets uneasy around lots of people. You can include him in the engagement pictures, in the wedding day shooting, as well as in a special shooting for your Save the Date cards (guests will love these adorable pictures!).
• For the actual wedding. Want to include your furry friend in the actual Big Day? He can be your ring bearer, your groomsman or he can simply walk someone down the aisle (perfect if you have an uneven number or bridesmaids or groomsmen).
Ultimate Bridal Beauty can provide you with the ultimately gorgeous hairstyle and makeup you want for this special day. Contact us, find out more about our services and hire us if you want to look splendid as a bride!